The working conditions of rideshare drivers with Uber and Lyft are potentially due for a major overhaul.
Following a brief debate Thursday night, the House passed HF2369, as amended, 69-61. The bill now heads to the Senate; however, Gov. Tim Walz has not committed to signing the proposal, leaving its ultimate fate up in the air.
Passage of the bill, which would institute a novel regulatory regime of rideshare companies, concluded a floor debate that began Wednesday evening.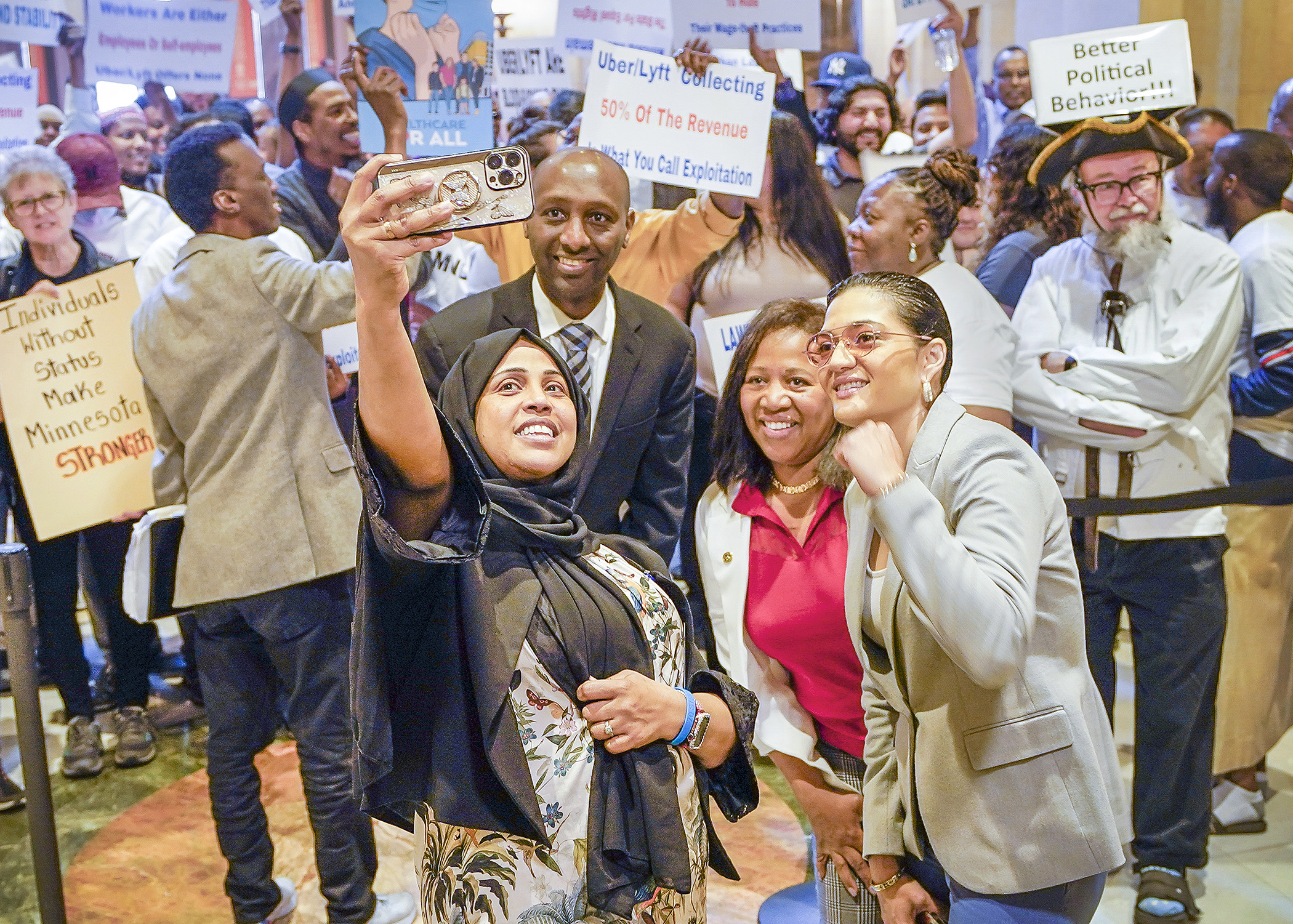 Rep. Hodan Hassan, Rep. Mohamud Noor, Rep. Mary Francis Clardy and Rep. Marìa Isa Pèrez-Vega pose for a selfie with supporters of HF2369 in front of the House Chamber May 17. (Photo by Andrew VonBank)
Rep. Hodan Hassan (DFL-Mpls), the bill sponsor, touted the measure via a written statement: "Tonight, we are sending a message that says the era of large corporations getting away with exploiting workers is over. We will not tolerate bad actors exploiting hardworking Minnesotans to pad their corporate pockets. If your business relies on keeping your workers in poverty, you don't have a viable business model, and you need to do better here in Minnesota."
Primarily, the bill would mandate minimum compensation rates for drivers on a per-mile and per-minute basis. It would also grant a driver the right to appeal a deactivation, providing an avenue to possibly reactivate their account on a rideshare app.
Rideshare companies have argued that many provisions would harm rider safety and lead to huge fare increases, making their service cost-prohibitive to many riders.
Republicans echoed those fears, criticizing the proposed changes to the deactivation process and sounding the alarm on the negative impacts to the rideshare economy.
"This would raise the cost of Uber and Lyft … which would potentially drive down ridership. That would hurt our businesses, that would hurt the drivers," said House Minority Leader Lisa Demuth (R-Cold Spring).
"Uber says [this bill] will greatly limit our ability to remove dangerous drivers from the platform, including drivers accused of sexual assault, sexual harassment, impaired driving, and discrimination," said Rep. Pat Garofalo (R-Farmington).
To partly allay those public safety concerns, the House voted overwhelmingly to adopt numerous amendments that would require rideshare companies to permanently ban drivers who have been convicted of various serious crimes from their apps.