Honest accounting is the goal of a bill that would eat into some of the state's projected $17.6 billion surplus without a dollar being spent.
Roughly five weeks before an updated fiscal forecast is scheduled to be shared by state budget officials, the House passed a bill that would require inflation be included on both sides of the ledger.
Following Thursday's 70-60 vote, the bill, as amended, heads to the Senate.
In 2002, the state was projected to face a significant deficit. Instead of slicing and dicing the state budget, lawmakers passed a law to remove inflation from the expenditure side of the ledger.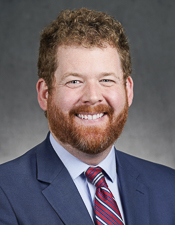 Rep. Zack Stephenson
"We are the only state that does this … This is insane," said Rep. Zack Stephenson (DFL-Coon Rapids), who sponsors HF35.
Minnesota Management and Budget Commissioner Jim Schowalter told a House committee earlier this month the agency supports the modernization. So, too, does the state's Council on Economic Advisors.
According to a fiscal note, the change would reduce the projected state budget surplus by $1.55 billion in the 2024-25 biennium and nearly $3.31 billion in the following two-year budget.
The bill does not specify if the inflationary increase would be based on the Consumer Price Index or another factor. State budget officials would need to consult with chairs and ranking minority party members of specific committees and legislative fiscal staff to determine the inflation rate and how it is to be included in expenditure estimates.
Rep. Kurt Daudt (R-Crown) said DFLers want this done quickly — the amendment would make the bill effective the day after it is signed into law — so it can be included with the February forecast which would then show a smaller projected surplus. That, he said, would ease the pressure to cut taxes this session.
"This is nothing more than trying to play three-card monte with the public," Daudt said.
A pair of Republican amendments were ruled not germane: not taxing Social Security benefits, and spending $1.55 billion — the amount that would come off the projected surplus if inflation were included — for cyber literacy grants.